Stakeholders in the rapidly changing area southeast of Lower Broadway have started efforts to rebrand their neighborhood as "South Bank."
The 125-acre district's boundaries would stretch from the Cumberland River at Demonbreun Street and rise along the riverfront up Rolling Mill Hill and Rutledge Hill, and over to Third Avenue South, according to a news release. Countless square feet of office, hotel, retail and residential development is underway in that vicinity.
Nashville Business Journal published news last summer of the blossoming neighborhood's first branding attempt: LoDo (which has now been scrapped in favor of South Bank).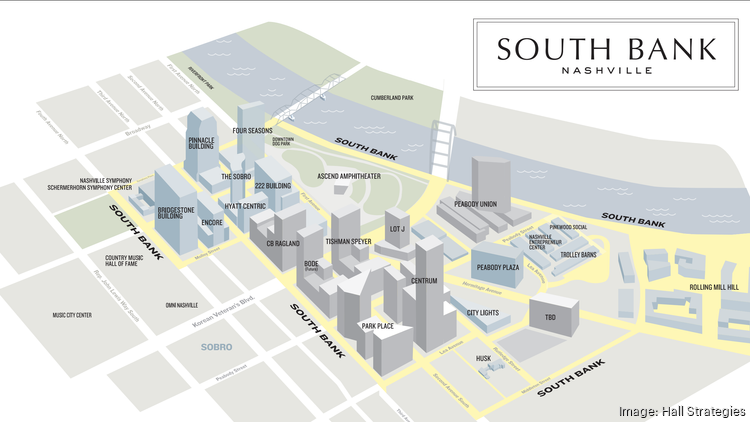 Stakeholders' desire for a new name for the larger area that includes historical areas like Rutledge Hill stems from the sheer amount of high-end development activity taking place there. Some of the district's projects — both proposed and completed — include the riverfront Peabody Union, Four Seasons, Peabody Plaza, Centrum Realty's triple towers and various others.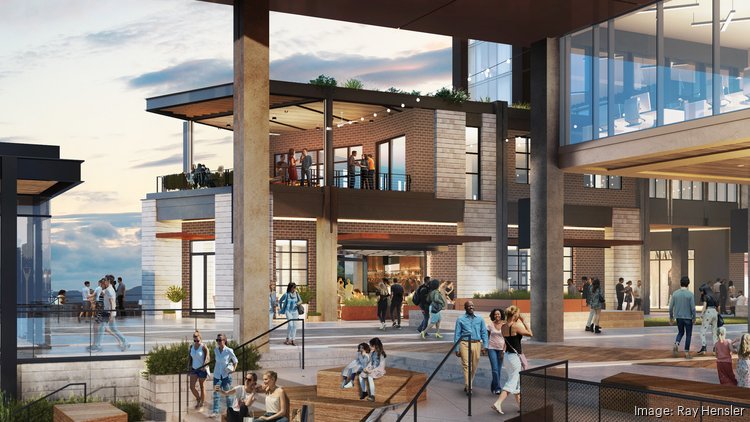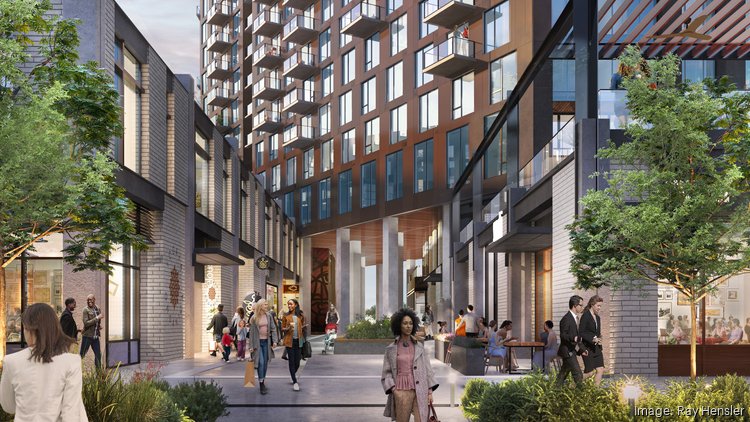 Ray Hensler, the lead developer of Peabody Union, which started vertical construction in January, says the South Bank name came about after a series of meetings with landowners and other stakeholders in the area. Included in those discussions were companies and organizations like Tishman Speyer, C.B. Ragland Co., The Congress Group, Nashville Symphony and Highwoods Properties Inc., he said.
"Nobody was interested in wiping away Rolling Mill Hill or Rutledge Hill or SoBro," Hensler told the Business Journal. "We really see Rolling Mill Hill and Rutledge Hill as historical features or contours within a larger neighborhood."
After those conversations, the consensus was that the South Bank district should keep developing as an urban neighborhood with quieter, upscale options — not become an extension of Lower Broadway or the Music City Center, Hensler said.
Some stakeholders imagine the emerging neighborhood as a kind of antithesis to Lower Broadway: no honky-tonks or themed bars, and fewer party buses and pedal taverns. Just waterfront views, luxury towers and green space.
The Metro Planning Department, Nashville Downtown Partnership and District 19 council member Freddie O'Connell are also involved in the branding effort, according to a news release.
The name "South Bank" draws inspiration from the Cumberland River, whose East Bank area is also developing rapidly.
"As the city has a renewed emphasis on activating life on the Cumberland River, it seemed natural that the river should be a source of consideration as we tried to determine a designation for a community expanding and taking shape around us," Hensler said in the news release.
In coming days, developers and other stakeholders plan to work with city leaders to brand the area clearly — like how the Gulch, Wedgewood-Houston and River North have been branded, according to the news release. Those efforts could include everything from pole banners to kiosk maps.