Trust You Can Build On.
Since 1951.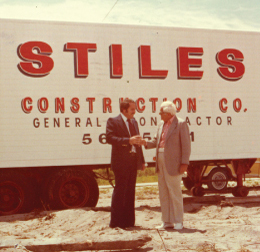 Building the Vision
Stiles' roots date back to 1951 when Howard K. Stiles founded the company as a residential general contracting firm. With nothing more than two employees and a set of core values characterized by honesty, integrity and personalized service, Howard had a clear vision to make Stiles a trusted industry name.
20 years later, Terry Stiles, son of the founder, became chief executive, and took the helm as South Florida began to attract people as a new and exciting place to live, work and play. Recognizing the region's potential for strong business growth, Terry aimed his focus on the commercial real estate sector. Drawing on his passion for real estate and intuition fostered from years spent studying his father, Terry went on to construct more than 48 million square feet of successful projects that helped redefine the South Florida landscape and establish Stiles as an industry leader.
Paving the Road
Understanding the market need for a real estate firm that could offer a complete range of expertise and truly take a project from start to finish, Terry broadened and expanded the company services to encompass the entire industry spectrum, including acquisitions, architecture, financing, leasing and brokerage, and property management. Stiles has since become one of the few remaining full-service real estate companies in South Florida.
As a result of Terry's passion for the industry and ability to remain at the forefront of real estate trends in Florida, Stiles has become the trusted industry name that Howard envisioned nearly six decades ago. Responsible for more than four million square feet of award-winning developments in downtown Fort Lauderdale, Stiles' team of 300 dedicated professionals is noted for having helped to shape the revered Fort Lauderdale skyline. These high-profile projects include the Bank of America Plaza at Las Olas City Centre (office), 350 & 450 Las Olas Center (office), luxury multi-family tower Amaray Las Olas, as well as the first Class A office project in downtown Fort Lauderdale in more than a decade, The Main Las Olas, and two residential towers, Novo and Alluvion.
One of Stiles' most notable development accomplishments was creating the first master-planned corporate park in Broward County in 1980, Corporate Park at Cypress Creek. In 1987, Stiles developed one of the state's largest corporate parks, the 650-acre Sawgrass International Corporate Park located in Sunrise, Florida.  Further establishing the company's expertise in master-planned corporate parks, Stiles also created Northpoint Corporate Park in West Palm Beach, Florida.
Creating the Legacy
Stiles innovative projects serve as high profile centers for business in thriving corporate communities throughout the state.
Fast forward through decades of tremendous growth and unique achievements in the commercial real estate arena. Today, Stiles is known as Florida's most trusted real estate provider and the company has proudly planted solid roots throughout the Southeast. In 2012, Stiles opened its first office in Charlotte, North Carolina and has since expanded into Tennessee and South Carolina with several award-winning retail, office and luxury residential projects. Growth throughout the Southeast remains a significant long-term strategic focus.
In 2017, following suit with the company's long-established leadership succession plan, Terry transitioned from CEO to Chairman providing the pathway for his son Ken Stiles to take the helm. As CEO, Ken Stiles also serves on the company's board of directors, executive committee, investment review committee and business development committee, and is directly involved with the development and implementation of the company's 50-year sustainability and growth plans.
While we have come a long way from our humble beginnings, the values we established in 1951 not only remain the cornerstone of our business, but also the basis for our reputation as a leader in the Southeast real estate market.